FROM THE BOOK JACKET:
When Ros comes home after three years away, shes ready to pick up with life exactly where she left it. But her friends have moved on, her parents have rekindled their romance, and her bedroom is now a garden shed. All of a sudden, shes swept up in nostalgia for the way things were.
Then her phone begins to ping, with messages from her old life. Including one number she thought shed erased for good the man who broke her heart. Is this her second chance at one big love? Sometimes we all want to see what weve been missing...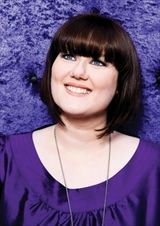 AUTHOR INFO:
Lindsey Kelk is a bestselling British chick lit author, journalist and formerly worked as a children's book editor. She was initially signed up to a three book deal by publishers HarperCollins following the submission of a manuscript for her first novel. She has now had 11 novels published, and two e-books. She lives in Los Angeles, California.